Thursday, February 6, 2014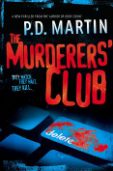 The Murderers' Club by P.D. Martin
My Review - 5 of 5 Stars
Title:
The Murderers' Club
Author:
P.D. Martin
Length:
448 pages
Publisher:
Harlequin MIRA
Published:
December 1, 2007
Genres:
Fiction; Suspense; Thriller
Subjects:
Serial Murderers; Criminal Profilers; Reality TV; Tuscon, AZ
Synopsis:
Six months ago, a case nearly cost Sophie her life. So when a detective friend asks her to visit Arizona, she welcomes the break. But her vacation ends abruptly when bodies are found at a university and she gets pulled into the case. The horrifying methodology—deliberate body positioning, a distinctive red heart scrawled on each victim—indicates to Sophie that a new serial killer has claimed the area. Oddly, though, certain signature elements differ between killings. Fortunately, the FBI database has a record of many of the signatures—but each belongs to a different serial killer.
As the bodies continue to appear, Sophie must hone her terrifying skills and suffer the horrors in her head in order to stop this killer.
My Review:
I am so thrilled that I have found P.D. Martin and also that I have been able to share it with many friends, as I have found the Sophie Anderson series to be so entertaining and enjoyable to read. The Murderers' Club certainly was no exception!
Every book of Martin's that I read, the more impressed I become with her writing skills! I've said it before and I'll say, that I thoroughly appreciate the descriptive nature of Martin's writing. She doesn't over indulge, making the story incredibly too wordy, she just adds descriptions of things that you may need to know to better understand the process that you are reading about! I also love the fact that she includes full blown profiles so the reader can understand what exactly a profile is! I feel like the more the read, the more knowledgeable I become, so I really feel like I am invested in the story, because I am learning from it and I love that!
This story was weaved with such an intricate and freaking suspenseful and twisting plot, and I loved all the flipping twistedness of it all! I absolutely couldn't figure out who the mastermind behind The Murderers' Club was, and still at the conclusion, don't know for sure, although I have my reservations! I just love Sophie's character and that she's the psychic profiler, and I enjoy learning as she learns about her abilities! I think it's a great twist to an already totally unique plot!
Overall, I love this series and I absolutely LOVED this book! As a matter of fact, I loved it so much, that I immediately tried to get my hands on book 3 in the series, Fan Mail! I am only disappointed in the fact that the series is only 6 books long, and I don't get to enjoy Sophie Anderson greatness for much longer!
Would I Recommend This Book to Others?
HECK YEAH!!!! This was one of the best books!!
Stand Alone or Part of a Series?
Part of a Series
My Rating: 5 of 5 Bookworms
Disclaimer
All blogs and reviews posted here are the sole property of the blogger and represent my very own opinions. In some cases, books reviewed are supplied to me in exchange for an honest review. Such cases will be noted on the blog post.
All other books reviewed have been purchased or borrowed through the normal channels.


Andrea
has read 65 books toward her goal of 100 books.

Book Ratings
Rating System

AMAZING!!! Go get this book right now!!

Great! Highly Recommend

It's ok. Borrow from a friend material.
Not that good but at least read the blurb.
Leave it on the shelf!

Contributors