Tuesday, February 4, 2014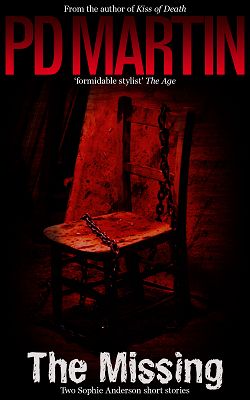 The Missing by P.D. Martin
My Rating: 4 of 5 Stars
Title:
The Missing
Author:
P.D. Martin
Length:
38 pages
Publisher:
Murderati Ink
Published:
March 4, 2012
Genres:
Fiction; Suspense
Subjects:
Criminal Profilers; Kidnapping
Synopsis:
The Missing is two Sophie Anderson short stories - one set before book 1 in the series (Body Count) and one set after Body Count. The first five books in PD Martin's Sophie Anderson series have been released in 13 countries to date, and to international acclaim.
Story 1: Sophie Anderson is working in Victoria Police's homicide department when her boss assigns her to a local kidnapping case. Her boss's deal is simple: 'Find my friend's ten-year-old daughter and I'll send you on the FBI course you've been nagging me about.' But Sophie doesn't need incentive to rescue a young girl. She throws herself into the case, racing against the clock to bring the girl home...only too aware of what the perpetrator might be doing to her.
Story 2: Sophie Anderson is still a relative newcomer to the FBI's Behavioral Analysis Unit when her profiling skills are called on for a kidnapping case in DC. Presidential candidate Senator Keen's daughter is missing and Sophie's mission is simple: find her and keep it quiet. But as Sophie investigates the senator and the daughter who's kept out of the public eye, she discovers more than a straight case of kidnapping.
My Review:
These books go right along with true Sophie Anderson fashion! I was particularly happy to get some more insight on Sophie's life in Australia!
I think that P.D. Martin is a phenomenal writer, and I certainly appreciate in her writing that she educates the readers on different techniques that she is writing about. I feel like I have a better knowledge of how Profiling and FBI Procedures work from reading her books. I just have a better general sense of understanding for what's going on when reading one of Martin's books!
Even though the stories were short, they seemed to be the perfect length to get the story across! I really enjoyed the fact that Story 2 had an alternate ending that was available to readers! Both endings were great endings, but very different from each other, so it was very cool!
Overall, as with all of Martin's other books, I loved The Missing just as much as I have all of her others! I am only saddened by the thought that I am halfway through her series, and am just hoping that she comes out with some new books very soon!!
Would I Recommend This Book to Others:
I would! It was an easy, quick read! I absolutely LOVE this series!
Stand Alone or Part of a Series:
Part of a Series
Sophie Anderson (2 Short Stories - 1st takes place before Book 1, second takes place after Book 1)
My Rating: 4 of 5 Bookworms
Disclaimer
All blogs and reviews posted here are the sole property of the blogger and represent my very own opinions. In some cases, books reviewed are supplied to me in exchange for an honest review. Such cases will be noted on the blog post.
All other books reviewed have been purchased or borrowed through the normal channels.


Andrea
has read 65 books toward her goal of 100 books.

Book Ratings
Rating System

AMAZING!!! Go get this book right now!!

Great! Highly Recommend

It's ok. Borrow from a friend material.
Not that good but at least read the blurb.
Leave it on the shelf!

Contributors