Sunday, August 30, 2015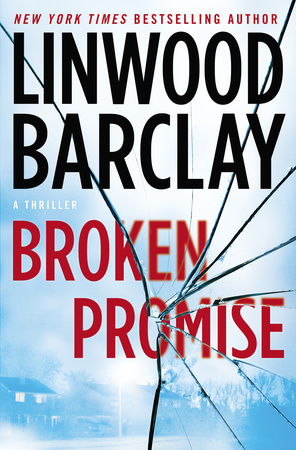 Broken Promise (Promise Falls #01) by Linwood Barclay
My Rating: 4 of 5 Stars
Title:
Broken Promise
Author:
Linwood Barclay
Series:
Promise Falls #01
Narrator:
Quincy Dunn Baker
&
Brian O'Neil
Length:
eBook - 512 pages; Unabridged; 13 hours and 04 minutes (Audio)
Publisher:
Penguin Books (eBook)
;
Recorded Books (Audio)
Published:
July 28, 2015 (eBook & Audio)
Source:
Publisher
via
NetGalley
Format:
eBook & Audio
Genres:
Fiction; Suspense; Mystery; Detective Fiction
Subjects:
City & Town Life; Murder Investigation
From the New York Times best-selling author of No Safe House comes an explosive novel about the disturbing secrets of a quiet, small town.... After his wife's death and the collapse of his newspaper, David Harwood has no choice but to uproot his nine-year-old son and move back into his childhood home in Promise Falls, New York. David believes his life is in free fall, and he can't find a way to stop his descent. Then he comes across a family secret of epic proportions. A year after a devastating miscarriage, David's cousin, Marla, has continued to struggle. But when David's mother asks him to check on her, he's horrified to discover that she's been secretly raising a child who is not her own - a baby she claims was a gift from an "angel" who left it on her porch. When the baby's real mother is found murdered, David can't help wanting to piece together what happened - even if it means proving his own cousin's guilt. But as he uncovers each piece of evidence, David realizes that Marla's mysterious child is just the tip of the iceberg. Other strange things are happening. Animals are found ritually slaughtered. An ominous abandoned Ferris wheel seems to stand as a warning that something dark has infected Promise Falls. And someone has decided that the entire town must pay for the sins of its past...in blood.

©2015 NJSB Entertainment, Inc. (P)2015 Recorded Books


My Review:
I haven't met a Linwood Barclay book that I haven't loved! With that being said, Broken Promise is no different. As a matter of fact, the ONLY reason that I couldn't rate this book with 5 stars, was due to some of the difficulty I had in following the story. I told one of my friends that she should put on her thinking cap to at least listen to this book, because she would definitely need it!!! I think that reading along while listening did ease that slightly, but there was A LOT going on in this book to keep up with!
Even though there was a lot going on, the story was a creative one! There are definitely parts of this book that left me gasping with my mouth hanging wide open, trying desperately to wrap my brain around what I just read, in total disbelief that something like that just happened! Barclay was certainly thinking outside of the box with Broken Promise.
I'm very interested to see where Barclay goes with the Promise Falls series. I wonder if we'll hear more about David or Marla, or if we'll find a new set of characters to follow. I really look forward to new releases, that's for sure! The ending definitely left me wanting more, so I certainly hope the following books clear all of that up!
There was definitely a vast array of characters throughout this book, your single widowed father who had to move back in with his parents, parents who will stop at nothing, and I mean nothing, to do what THEY think is in their child's best interest! These characters will definitely keep you entertained! They go from on vast abnormality to another! Each one certainly has their own character flaws, but I do think that's one thing that makes the book so great!
I think the narrators for Broken Promise were spot on! I've never listened to either one before, but I wouldn't hesitate to listen to them again! I think they delivered a stellar performance! I believe narrating would be an extremely difficult job, and I believe Quincy Dunn Baker and Brain O'Neil nailed it!
Overall, the story was very fulfilling! When I think of this story, I think of a chart that has many up and down points! Barclay will take you from an extremely low point to a mountainous high point and back down to the depths of the valley again! What more could you want out of a mystery/thriller novel? Barclay has done it again!
Amazon | Audible | Author | Barnes & Noble | Books•A•Million | Google Play | iTunes | Kobo | Publisher (eBook) | Publisher (Audio)
Disclaimer: This book was provided to me by the Publisher, Penguin Books, via NetGalley, in return for an honest and unbiased review.
Disclaimer
All blogs and reviews posted here are the sole property of the blogger and represent my very own opinions. In some cases, books reviewed are supplied to me in exchange for an honest review. Such cases will be noted on the blog post.
All other books reviewed have been purchased or borrowed through the normal channels.


Andrea
has read 65 books toward her goal of 100 books.

Book Ratings
Rating System

AMAZING!!! Go get this book right now!!

Great! Highly Recommend

It's ok. Borrow from a friend material.
Not that good but at least read the blurb.
Leave it on the shelf!

Contributors