Thursday, July 9, 2015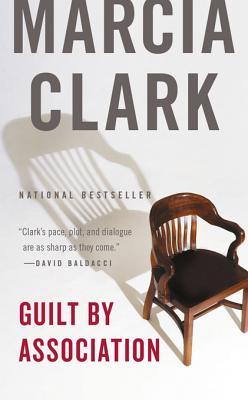 Guilt by Association (Rachel Knight #01) by Marcia Clark
My Rating: 5 of 5 Stars
Title:
Guilt by Association
Author:
Marcia Clark
Series:
Rachel Knight #01
Narrator:
January LaVoy
Length:
eBook - 373 pages; Unabridged; 9 hours and 49 minutes (Audio)
Publisher:
Mulholland Books (eBook)
;
Hachette Audio (Audio)
Published:
June 26, 2012 (eBook); June 20, 2011 (Audio)
Source:
Publisher
via
NetGalley
Format:
eBook & Audio
Genres:
Fiction; Legal Stories
Subjects:
Public Prosecutors; Murder Investigation; Los Angeles, California
Los Angeles D.A. Rachel Knight is a tenacious, wise-cracking, and fiercely intelligent prosecutor in the city's most elite division. When her colleague, Jake, is found dead at a grisly crime scene, Rachel is shaken to the core. She must take over his toughest case: the assault of a young woman from a prominent family.

But she can't stop herself from digging deeper into Jake's death, a decision that exposes a world of power and violence and will have her risking her reputation - and her life - to find the truth.

With her tremendous expertise in the nuances of L.A. courts and crime, and with a vibrant ensemble cast of characters, Marcia Clark combines intimate detail, riotous humor, and visceral action in a debut thriller that marks the launch of a major new figure on the crime-writing scene.

©2011 Marcia Clark (P)2011 Hachette
My Review:
I received an email from NetGalley asking if I'd be interested in reviewing a series by Marcia Clark. At the time, I must be honest and admit, that I didn't realize that Marcia Clark was the Prosecutor in the O.J. Simpson murder trial. I was relatively young while all that was going on, so it wasn't something that would stand out in my head. So when I read the Synopsis, I was thrilled to take this series on and review them!
Let me just say that I love the character Rachel Knight! She is incredibly intelligent and witty, quick on her feet, not scared of anything, ready to go get anyone who gets in her way! I really think she's a one-of-a-kind, perfect character that I just can't get enough of! I love reading her and her antics, and contrary to the complaints of other reviewers, I thoroughly enjoy hearing about what she is wearing or eating that day! That girl can put some food down!
This was my first Marcia Clark read, and absolutely won't be my last! I will delightfully and gleefully finish this series! I love the extreme in depth, and overly descriptive method of Clark's writing and certainly appreciate her explanation of things that non-lawyers may not already know!
I listened to this book while following along with the e-book and I must say that January LaVoy is a true professional narrator. She is one of those narrator's that you'll buy a book just because she is the one reading it to you! I look forward to listening to more of her works!
Overall, I really loved this story and can't wait to see what Rachel Knight has in store for us in Guilt by Degrees!! I actually have to admit that I originally rated this book a 4 of 5 stars, and after re-reading my review and the delightful feelings I have just thinking back on the story, I had to change my review to 5 of 5 stars! Thank you NetGalley for sharing this awesome new series with me!
Amazon | Audible | Author | Barnes & Noble | Books•A•Million | Google Play | iTunes | Kobo | Publisher (eBook) | Publisher (Audio)
Disclaimer: This book was provided to me by the Publisher, Mulholland Books, via NetGalley, in return for an honest and unbiased review.
Disclaimer
All blogs and reviews posted here are the sole property of the blogger and represent my very own opinions. In some cases, books reviewed are supplied to me in exchange for an honest review. Such cases will be noted on the blog post.
All other books reviewed have been purchased or borrowed through the normal channels.


Andrea
has read 65 books toward her goal of 100 books.

Book Ratings
Rating System

AMAZING!!! Go get this book right now!!

Great! Highly Recommend

It's ok. Borrow from a friend material.
Not that good but at least read the blurb.
Leave it on the shelf!

Contributors