Sunday, March 2, 2014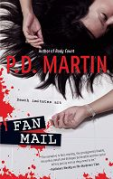 Fan Mail (Sophie Anderson #1) by P.D. Martin
My Rating: 4 of 5 Stars
Title:
Fan Mail
Author:
P.D. Martin
Series:
Sophie Anderson #3
Length:
Kindle - 475 pages
Publisher:
Harlequin MIRA
Published:
November 15, 2012
Source:
Library
Genres:
Fiction; Suspense; Mystery
Subjects:
FBI; Criminal Profilers; Serial Murder Investigation; Novelists; Los Angeles, California
Synopsis:
Getting into a killer's mind is both a blessing and a curse for FBI profiler Sophie Anderson. The agent suffers through brutal premonitions in order to save lives. Now a resident of Los Angeles, Sophie is working on a case where fiction has become fatal. A popular crime writer is sexually mutilated, strangled and marked with an eerie lipstick kiss…just like the crime scene in the dead author's last book.
As more writers are punished for their dark imaginations, there is a recurring theme—a chilling fan letter that arrives before each murder. In order to stop the slaughter, Sophie must delve into the writings of the dead authors. But the sinister mind behind the crimes is linked to an unsolved case from Sophie's past. And that person is determined to create a killer ending.
My Review:
I have very quickly come to know and love the Sophie Anderson series! I don't typically read series books back-to-back, but I find myself wanting some Sophie when I haven't read about her after a few days! She is a character that has just taken me over and I must say, one of my favorite fictional characters!
I just randomly came across this series, and actually accidentally read book 4 first, but thoroughly enjoyed it! I had book 1 on my TBR for quite some time, when finally, for some odd reason I picked it up from the library, thus what started this wonderful addiction! I was so excited about how great book 1 started and finished, that I wanted to share it with everyone, which I did! This series is now all of my friends new favorite series!!!
I find myself getting amerced into the writing of P.D. Martin. I get lost in her words and have much appreciation for the fact that she takes the time to explain procedures that other writers assume the reader already has a working knowledge of what he or she is writing about! There is always at least one word that I have to look up in every book that I read, but I appreciate Martin's attempt to give the reader greater knowledge about the happenings in her book. I feel like each book of hers that I read, gives me a broader sense of enlightenment, and that I have further extended not only my vocabulary, but also have better recognition and comprehension of the life of an FBI Profiler!
I think that Martin has such unique plots and characters that make me smile just sitting here thinking about them as I type out this review! I am always ecstatic to see what she has come up with next with each new book, and Fan Mail was no exception! I enjoy the detailed and skillful profiles that Martin provides via Sophie throughout each book, as she is working each case. Martin writes fast-paced stories, that keep the reader engaged throughout and seems to have an excellent knowledge base about the stories she is writing! Martin has such a knack for awesome endings and each book brings a new excitement about what is coming up next!
I appreciate the extension of Book 2, The Murderers' Club, as at the end of the book, I just had a feeling that the story wasn't over, and I couldn't have been more right, nor could I have been more thrilled, because let's just face it, that book was pretty flipping awesome!! The outcome of that part of the book was still left pretty open, so I'll be very interested to see if it comes up again either in book 4 or later in the series!
Overall, I just love this series and can't wait to jump right into Book 4, (again...since I read it first several years ago!) Killing Hands! I am so thrilled to have found this excellent author, and am starting to get worried because I am nearing the end, so I certainly hope that Martin has plenty more in store for us, and am anxiously awaiting an announcement for the release of book 7 in the Sophie Anderson series!
My Rating: 4 of 5 Bookworms
Disclaimer
All blogs and reviews posted here are the sole property of the blogger and represent my very own opinions. In some cases, books reviewed are supplied to me in exchange for an honest review. Such cases will be noted on the blog post.
All other books reviewed have been purchased or borrowed through the normal channels.


Andrea
has read 65 books toward her goal of 100 books.

Book Ratings
Rating System

AMAZING!!! Go get this book right now!!

Great! Highly Recommend

It's ok. Borrow from a friend material.
Not that good but at least read the blurb.
Leave it on the shelf!

Contributors