Wednesday, January 22, 2014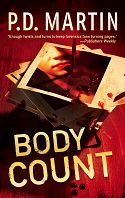 Body Count (Sophie Anderson #1) by P.D. Martin
My Rating: 5 of 5 Stars
Title:
Body Count
Author:
P.D. Martin
Length:
400 pages
Publisher:
Harlequin MIRA
Published:
September 15, 2011
Genres:
Fiction; Thriller; FBI Profiler
My Rating: ✮✮✮✮✮
Synopsis:
TO CATCH A KILLER, YOU HAVE TO THINK LIKE ONE
FBI agent Sophie Anderson has been trained to uncover the minds of serial killers, to understand their vile impulses and cravings—to catch them before they kill again.
Newly relocated from Australia, Sophie is settling in to her job at Quantico with the help of her new friend, Agent Samantha Wright, and a potential new boyfriend, Agent Josh Marco, and is quickly becoming the FBI's star profiler.
The only problem is the nightmares.
These intense images are more than dreams. They are psychic visions, like those she experienced during childhood when her brother was abducted.
When grisly details match recent crime scene photos, she confides in Sam, and her visions lead to several breakthroughs in the case. But when Sam is abducted, Sophie must finally trust her visions and use them. She may not have been able to save her brother, but perhaps she can save Sam—and herself.
My Review:
Let me start out by saying, this is my new favorite series and author! I am going to go out on a limb here and say that P.D. Martin ranks right up there with mystery writer great, Lisa Gardner! I am so beyond impressed with P.D. Martin and the Sophie Anderson series!
I love the fact that in her writing, Martin goes the extra step to explain things that might be left to the reader's imagination in other books. She makes sure that the reader is aware of the procedures that are happening, to give them a better understanding of how the world of the FBI and a Criminal Profiler works, and I really appreciated that. It didn't add that much more to the book, but added a world of difference in my understanding of what was going on. I thought that the plot was well written with a different twist that you don't find in many other books. The plot was a suspense builder, leaving me clueless as to who the killer was throughout. Many friends of mine said they guessed the killer early on, but I was absolutely in left field and wasn't exactly sure who did it! It certainly kept me on the edge of my seat and frantically turning the pages to get through the book as quickly as I could! The strong sense of needing to know was present, but there were plenty of surprises throughout! There is romance included in Body Count, but it certainly doesn't overpower the mystery or suspense by any means!
The characters of Body Count were interesting and diverse and enjoyable to read about! I love that the lead character Sophie, is a strong, independent woman who knows how to take care of herself. I thought that these particular characters were quite unique compared to your regular run of the mill characters! I can't wait to follow Sophie and learn more about her as I go!
Overall, I loved Body Count and absolutely will continue with the Sophie Anderson series! The only complaint that I even has is the lack of availability to everyone. It is a book that is relatively hard to find and doesn't seem to be carried in most libraries, which is should!! This is an amazing job for what appears to be P.D. Martin's debut novel, and I can't wait to see what she has in store for us in The Murderers' Club, because it certainly looks like it'll be an awesome book!
Would I Recomment This Book?
You betcha! If you haven't read it yet...WHAT ARE YOU WAITING FOR?!?!? You're missing an awesome book/series!
Stand Alone or Part of a Series?
Part of a Series
Disclaimer
All blogs and reviews posted here are the sole property of the blogger and represent my very own opinions. In some cases, books reviewed are supplied to me in exchange for an honest review. Such cases will be noted on the blog post.
All other books reviewed have been purchased or borrowed through the normal channels.


Andrea
has read 65 books toward her goal of 100 books.

Book Ratings
Rating System

AMAZING!!! Go get this book right now!!

Great! Highly Recommend

It's ok. Borrow from a friend material.
Not that good but at least read the blurb.
Leave it on the shelf!

Contributors