Monday, January 27, 2014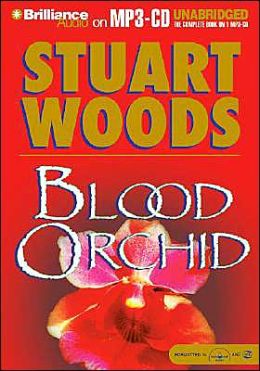 Blood Orchid (Holly Barker #3) by Stuart Woods
My Rating: 5 of 5 stars
Title:
Blood Orchid
Author:
Stuart Woods
Narrators:
Dick Hill
and
Susie Breck
Length:
Unabridged; 7 hours, 9 minutes
Publisher:
Brilliance Audio
Published:
October 14, 2002
Genres:
Fiction; Mystery; Police Fiction
My Rating: ✮✮✮✮✮
Synopsis:
Blood Orchid is the third adventure of one of Stuart Woods' most engaging characters, Chief of Police Holly Barker. This time out, Holly is trying to get her life back together after the shattering loss of her fiance. With the help of her wily Doberman, Daisy, and her father, Ham, she throws herself back into the job with a vengeance. At a local restaurant, Holly and Ham meet a gentleman new to the area, rich and dapper developer Ed Shrine, who has found an evocative name for both his favorite flower and his latest real estate venture: the "Blood Orchid". But before Holly can settle into her routine again, bullets crash into the home of a friend and a floater is found bobbing in the Intercoastal Waterway. Holly connects these events to the death-by-sniper-fire of two Miami businessmen and a man evading questions at a Federal agency - but she can't imagine how these violent occurrences could be related to her own quiet, unspoiled town of Orchid Beach. Joining forces with a handsome FBI agent, she tracks the clues straight to their source, only to find a scam more lucrative and more dangerous than any this idyllic town - or Holly - has ever seen.
My Review:
I must say that I normally take to female authors, but I can certainly tell the difference between a male's writing and a female's writing, especially with this series! The subject of each book has been a more "manly" subject, per say, than many female authored mystery books! Which is actually a great thing for me, because it throws something new into the mix!
I have quickly come to love the Holly Barker series, and am upset that I am halfway through it now! Typically I will wait a good while between reading books in a series, however, I have managed to read the first three books in the Holly Barker in a month's time, and I don't intend to stop until I'm finished with the last book!
The narrators, Dick Hill and Susie Breck, really do an awesome job partnering up to read the books in this series! I appreciate having the same narrator throughout the series thus far, and especially appreciate one narrator of each gender to help distinguish between the characters! I have really come to know and love their voices and think that they do a wonderful job of reading the story! I also appreciate the music at the opening and closing of each disc! Nice extra added!
I have really grown to like the writing of Stuart Woods, and the more I read of this series, the more I like the characters and want to know what happens with Holly Barker, the main character of this series! I appreciate that as a man, Woods was able to create one of the best female fictional characters out there! She is everything that I would want to be...strong, beautiful, independent Chief of Police who isn't afraid of what's out there or to tell anybody what she thinks or how she is going to run her town! I appreciate her bluntness and humor! I also really enjoy Ham, which I was disappointed to hear from a lot less in Blood Orchid! Instead, we meet his secret girlfriend, Jenny, which seems to be a great fit with Ham! I love the relationship between Holly and Ham!
The plot, of a real estate scheme brings us back to Palmetta Gardens and the purchase of it by a retired New Yorker! It is definitely not a plot that you're going to read anywhere else, so I enjoyed the creativeness of the book!
Overall, I loved Blood Orchid just as much as I have the past two books in the series, and I am going right out to get the next book in the series, Reckless Abandon. I see that it is a series combo, with Stone Barrington, so I am hoping that the fact that it is book #10 of the Stone Barrington series isn't going to damper my reading since I've not yet read any books from that series (although we briefly met him in Orchid Blues!) Until next time...
Would I Recommend This Book?
Sure! I found that it followed along nicely with the rest of the series, with a totally different plot and some new characters!
Stand Alone or Part of a Series?
Part of a series
Holly Barker #3 (Really should be read in order, as each book builds upon the main characters!)
Disclaimer
All blogs and reviews posted here are the sole property of the blogger and represent my very own opinions. In some cases, books reviewed are supplied to me in exchange for an honest review. Such cases will be noted on the blog post.
All other books reviewed have been purchased or borrowed through the normal channels.


Andrea
has read 65 books toward her goal of 100 books.

Book Ratings
Rating System

AMAZING!!! Go get this book right now!!

Great! Highly Recommend

It's ok. Borrow from a friend material.
Not that good but at least read the blurb.
Leave it on the shelf!

Contributors