Monday, August 31, 2015
The Murderer's Daughter by Jonathan Kellerman
My Rating: 3 of 5 Stars
Title:
The Murderer's Daughter
Author:
Jonathan Kellerman
Series:
Stand Alone
Narrator:
Kathe Mazur
Length:
eBook - 385 pages; Unabridged; 14 hours and 05 minutes (Audio)
Publisher:
Ballentine Books (eBook)
;
Random House Audio (Audio)
Published:
August 18, 2015 (eBook & Audio)
Source:
Publisher
via
NetGalley
Format:
eBook & Audio
Genres:
Fiction; Psychological Fiction; Mystery; Suspense; Detective Fiction
Subjects:
Women Psychologists; Risk-Taking (Psychology); Murder Investigation
From the number-one New York Times best-selling creator of the acclaimed Alex Delaware series comes a tour-de-force novel that introduces an unforgettable new heroine and illustrates perfectly why "Jonathan Kellerman has justly earned his reputation as a master of the psychological thriller" (People).

Brilliant, beautiful, and stunningly effective, psychologist Dr. Grace Blades has a special gift for treating troubled souls and healing tormented psyches - perhaps because she bears her own invisible scars. Only five years old when she witnessed her parents die in a bloody murder-suicide, Grace took refuge in her towering intellect and found comfort in the loving couple who adopted her. But as an adult, Grace's accomplished professional life vies with a covert, high-risk dark side, played out harrowingly. And when Grace's two worlds shockingly converge, her past returns with a vengeance.

The crisis begins when the busy therapist encounters a new patient whose own bleak past seems to eerily echo her own grim childhood. But there's a complication: She's met Andrew Toner before, under bizarre circumstances, and must refuse to treat him. Thinking that this is the last she'll hear of the young man, Grace is stunned to learn he was murdered soon after leaving her office, a vicious crime that leads a homicide investigation to her doorstep.

Shaken by the killing and fearing exposure of her double life, Grace sets out to probe the crime herself. But when she stumbles on the dead man's true identity, a horrifying chapter from her childhood is violently reawakened, forcing her to confront a decades-old act of evil that cries out for retribution. Suddenly stalked by vicious predators, Grace must draw upon the fierce will to survive that has powered her entire life while facing down her darkest personal demons.

©2015 Jonathan Kellerman (P)2015 Random House Audio
My Review:
This is my first Jonathan Kellerman read, but I can't say that I was thoroughly thrilled while reading The Murderer's Daughter. I think that Kellerman shows that he's a creative genius and has excellent writing skills, I just don't think this book displays his full potential.
I really like the idea of the story, but it is hard to follow the way it flashes back and forth between present day and the past in the life of Dr. Grace Blades. I think the concept of the story and the characters are unique, but I think that the story could have been delivered better, less complicating.
When listening to an audiobook, a narrator can either make or break a story, and this narrator, Kathe Mazur delivers a decent performance, thus garnering a little better rating from me! She saved the story for me, as I felt that she was a great fit for Grace!
I can't say that this was my favorite book that I've ever read, however, it won't stop me from trying another Kellerman book. It wasn't a painful read, it just didn't excite me as much as other books have, basically leaving me a mediocre feeling toward the story!
Amazon | Audible | Author | Barnes & Noble | Books•A•Million | Google Play | iTunes | Kobo | Publisher (eBook) | Publisher (Audio)
Disclaimer: This book was provided to me by the Publisher, Ballentine Books (Random House), via NetGalley, in return for an honest and unbiased review.
Sunday, August 30, 2015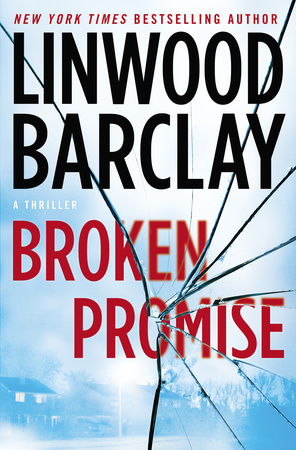 Broken Promise (Promise Falls #01) by Linwood Barclay
My Rating: 4 of 5 Stars
Title:
Broken Promise
Author:
Linwood Barclay
Series:
Promise Falls #01
Narrator:
Quincy Dunn Baker
&
Brian O'Neil
Length:
eBook - 512 pages; Unabridged; 13 hours and 04 minutes (Audio)
Publisher:
Penguin Books (eBook)
;
Recorded Books (Audio)
Published:
July 28, 2015 (eBook & Audio)
Source:
Publisher
via
NetGalley
Format:
eBook & Audio
Genres:
Fiction; Suspense; Mystery; Detective Fiction
Subjects:
City & Town Life; Murder Investigation
From the New York Times best-selling author of No Safe House comes an explosive novel about the disturbing secrets of a quiet, small town.... After his wife's death and the collapse of his newspaper, David Harwood has no choice but to uproot his nine-year-old son and move back into his childhood home in Promise Falls, New York. David believes his life is in free fall, and he can't find a way to stop his descent. Then he comes across a family secret of epic proportions. A year after a devastating miscarriage, David's cousin, Marla, has continued to struggle. But when David's mother asks him to check on her, he's horrified to discover that she's been secretly raising a child who is not her own - a baby she claims was a gift from an "angel" who left it on her porch. When the baby's real mother is found murdered, David can't help wanting to piece together what happened - even if it means proving his own cousin's guilt. But as he uncovers each piece of evidence, David realizes that Marla's mysterious child is just the tip of the iceberg. Other strange things are happening. Animals are found ritually slaughtered. An ominous abandoned Ferris wheel seems to stand as a warning that something dark has infected Promise Falls. And someone has decided that the entire town must pay for the sins of its past...in blood.

©2015 NJSB Entertainment, Inc. (P)2015 Recorded Books


My Review:
I haven't met a Linwood Barclay book that I haven't loved! With that being said, Broken Promise is no different. As a matter of fact, the ONLY reason that I couldn't rate this book with 5 stars, was due to some of the difficulty I had in following the story. I told one of my friends that she should put on her thinking cap to at least listen to this book, because she would definitely need it!!! I think that reading along while listening did ease that slightly, but there was A LOT going on in this book to keep up with!
Even though there was a lot going on, the story was a creative one! There are definitely parts of this book that left me gasping with my mouth hanging wide open, trying desperately to wrap my brain around what I just read, in total disbelief that something like that just happened! Barclay was certainly thinking outside of the box with Broken Promise.
I'm very interested to see where Barclay goes with the Promise Falls series. I wonder if we'll hear more about David or Marla, or if we'll find a new set of characters to follow. I really look forward to new releases, that's for sure! The ending definitely left me wanting more, so I certainly hope the following books clear all of that up!
There was definitely a vast array of characters throughout this book, your single widowed father who had to move back in with his parents, parents who will stop at nothing, and I mean nothing, to do what THEY think is in their child's best interest! These characters will definitely keep you entertained! They go from on vast abnormality to another! Each one certainly has their own character flaws, but I do think that's one thing that makes the book so great!
I think the narrators for Broken Promise were spot on! I've never listened to either one before, but I wouldn't hesitate to listen to them again! I think they delivered a stellar performance! I believe narrating would be an extremely difficult job, and I believe Quincy Dunn Baker and Brain O'Neil nailed it!
Overall, the story was very fulfilling! When I think of this story, I think of a chart that has many up and down points! Barclay will take you from an extremely low point to a mountainous high point and back down to the depths of the valley again! What more could you want out of a mystery/thriller novel? Barclay has done it again!
Amazon | Audible | Author | Barnes & Noble | Books•A•Million | Google Play | iTunes | Kobo | Publisher (eBook) | Publisher (Audio)
Disclaimer: This book was provided to me by the Publisher, Penguin Books, via NetGalley, in return for an honest and unbiased review.
Wednesday, August 5, 2015
Pretty Baby by Mary Kubica
My Rating: 5 of 5 Stars
Title:
Pretty Baby
Author:
Mary Kubica
Narrator:
Cassandra Campbell
,
Tom Taylorson
,
Jorjeana Marie
Series:
Stand Alone
Length:
Unabridged; 12 hours, 07 minutes (Audio)
Publisher:
Blackstone Audio
Published:
July 28, 2015
Source:
Publisher
via
Audiobook Jukebox
Format:
Audiobook
Genres:
Fiction; Psychological; Suspense
Subjects:
Homeless Persons; Teenage Mothers; Infants
A chance encounter sparks an unrelenting web of lies in this stunning new psychological thriller from national best-selling author Mary Kubica.

Heidi Wood has always been a charitable woman: She works for a nonprofit and takes in stray cats. Still, her husband and daughter are horrified when Heidi returns home one day with a young woman named Willow and her four-month-old baby in tow. Disheveled and apparently homeless, this girl could be a criminal - or worse. But despite her family's objections, Heidi invites Willow and the baby to take refuge in their home.

Heidi spends the next few days helping Willow get back on her feet, but as clues into Willow's past begin to surface, Heidi is forced to decide how far she's willing to go to help a stranger. What begins as an act of kindness quickly spirals into a story far more twisted than anyone could have anticipated.

©2015 Mary Kubica (P)2015 Blackstone Audio, Inc.
My Review:
I have to give it to Mary Kubica, that for an up and coming author, she sure has figured out how to hit it out of the park when it comes to writing stories! I seem to thoroughly enjoy books that share different character perspectives, so Pretty Baby was right up my alley. What I enjoyed even more is that each personality had his or her own narrator! GRAND SLAM in my book!
The narrators were such a perfect fit for the characters of this book! I found myself mesmerized by their reading! They made listening to this book completely effortless! I don't think there could have been a better fit for the narrators, and they really made this reading experience more than enjoyable!
This was such a great psychological thriller with many different twists and turns, that kept you guessing clear to the very end. Not only was the story unpredictable, but it was also easy to follow, and a totally believable story line and very thought provoking! There was nothing about this book that was boring, or made it easy to put down! I just wanted to devour it for as long as possible, but also at the same time, as quickly as possible, because I just HAD to know what was going to happen! I was slightly confused on what exactly happened at the end, so I will be listening to at least that part again, to see if I get a better grasp for what happened!
I am totally amazed at this author, who should and will be ranked right up there with some of the best mystery writers of all time! This lady is going places and I can't wait to be there to pick up her books when she does!! Hold on to your seats because Mary Kubica and Pretty Baby are going to be the talk of the town because this author and this book are going to amaze and blow people away! This author is going to be the next big thing and deservingly so!
Amazon | Audible | Author | Barnes & Noble | Books•A•Million | Google Play | iTunes | Kobo | Publisher
Disclaimer: This book was provided to me by the Publisher, Blackstone Audio, via Audiobook Jukebox, in return for an honest and unbiased review.
Disclaimer
All blogs and reviews posted here are the sole property of the blogger and represent my very own opinions. In some cases, books reviewed are supplied to me in exchange for an honest review. Such cases will be noted on the blog post.
All other books reviewed have been purchased or borrowed through the normal channels.


Andrea
has read 65 books toward her goal of 100 books.

Book Ratings
Rating System

AMAZING!!! Go get this book right now!!

Great! Highly Recommend

It's ok. Borrow from a friend material.
Not that good but at least read the blurb.
Leave it on the shelf!

Contributors